RIMA UN0.8-12 12Volt 0.8Ah Sealed Lead Acid Rechargeable Battery:
This UN0.8-12 is a 12Volt 0.8Ah Sla Battery. RIMA SLA batteries have been designed with AGM Battery technology to ensure superior performance and reliability. This 12V 0.8Ah battery is a high quality Sealed Lead Acid Batteries, made of high quality materials, the battery is perfect designed for standby use, but also good at cycle use. The battery is based on AGM battery technology, which means that the electrolyte is absorbed by a fiberglass separator, preventing its leakage, this way the battery can work in any positions, it is a perfect and much safer alternative for lead acid batteries. This 12Volt 0.8Ah battery can be utilized in many applications, such as battery for emergency light, battery for Access Control Systems, battery for Fire Alarm Systems, battery for Security Alarm Systems, battery for uninterruptible power supplies, and so on.
Product Information:
| | |
| --- | --- |
| Nominal Voltage(@25℃): | 12V |
| Nominal Capacity (@25℃): | 0.8AH |
| Weight: | 0.35kg (0.772lbs) |
| Length: | 96mm (3.780inches) |
| Width: | 25m (0.984inches) |
| Height: | 62mm (2.441inches) |
| Total Height: | 62mm (2.441inches) |
| Terminal: | T13 OR T9 |
| Design life(@25℃) | 5-8 years |
| Warranty: | 12 months |
| Certificate: | ISO9001, ISO14001, ISO45001, UL, CE, TLC |
| Package: | 40 pcs per Carton |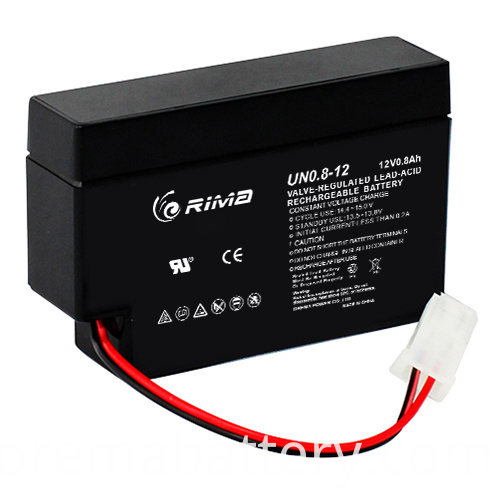 Features of this 12Volt 0.8Ah Sealed Lead Acid Rechargeable Battery:
-Sealed Maintenance Free
The valve regulated, spill-proof construction of this battery allows trouble-free, safe operation in any position. There is no need to add electrolyte during using process.
-Long Service Life
A dependable service life can be expected under normal operating conditions.
-Long Shelf Life
Low self-discharge rate allows for storage of fully charged batteries for longer periods of time before charging is required. Lower storage temperatures will further extend shelf life.
-Rugged Construction

The high-impact resistant battery case is made either of non-conductive ABS plastic or styrene. Large capacity batteries frequently have polypropylene cases, all of these materials impart great resistance to shock, vibration, chemicals and heat.
Applications of UN series:
Uninterruptible Power Supply (UPS)
Emergency backup power supply
Auto control system
Communication power supply
Alarm and security system
Electric Power System (EPS)
Three Reasons Why choose our AGM Sealed Lead Acid Batteries:
-Sealed, Maintenance Free: Completely spill-proof and can be installed in any position, except upside-down;
-Fully Charged and Ready to Go: Right out of the box, this 12 Volt, 0.8 Ah rechargeable sealed lead Acid Battery is ready for anything;
-100% Brand New and Factory Fresh: We receive new shipments daily, ensuring each of our SLA batteries are as fresh as possible when you need them;