RIMA Battery UN45-12H Premium High Rate Battery 12V 45AH Battery for UPS
RIMA UN45-12H is a high rate Sla Battery which can release more power within a periou of time. It can support more high-power applications requirements like jump starter, power tools, and racing devices. The high rate batteries have high discharge platform,high discharge efficiency,and high output power and energy. High discharge models are very important in backup power applications, where consistent energy is needed to keep power running during outages. Businesses usually rely on the high rate batteries to prevent power disruptions to fire alarms,emergency lighting,security cameras,network servers,IT systems,and process control systems. So the high rate batteries play a important role in the business applications.
Product Information:
Nominal Voltage(@25

℃

):

12V

Nominal Capacity

(@25

℃

):

45AH

Weight:

14kg (30.864lbs)

Length:

197mm (7.756inches)

Width:

165mm (6.496nches)

Height:

170mm (6.693inches)

Total Height

170mm (6.693inches)

Terminal:

F11(F4)

Design life(@25

℃

)

10-12 years

Warranty:

24 months

Certificate:

ISO9001, ISO14001, ISO45001, UL, CE, TLC

Package:

2pcs per Carton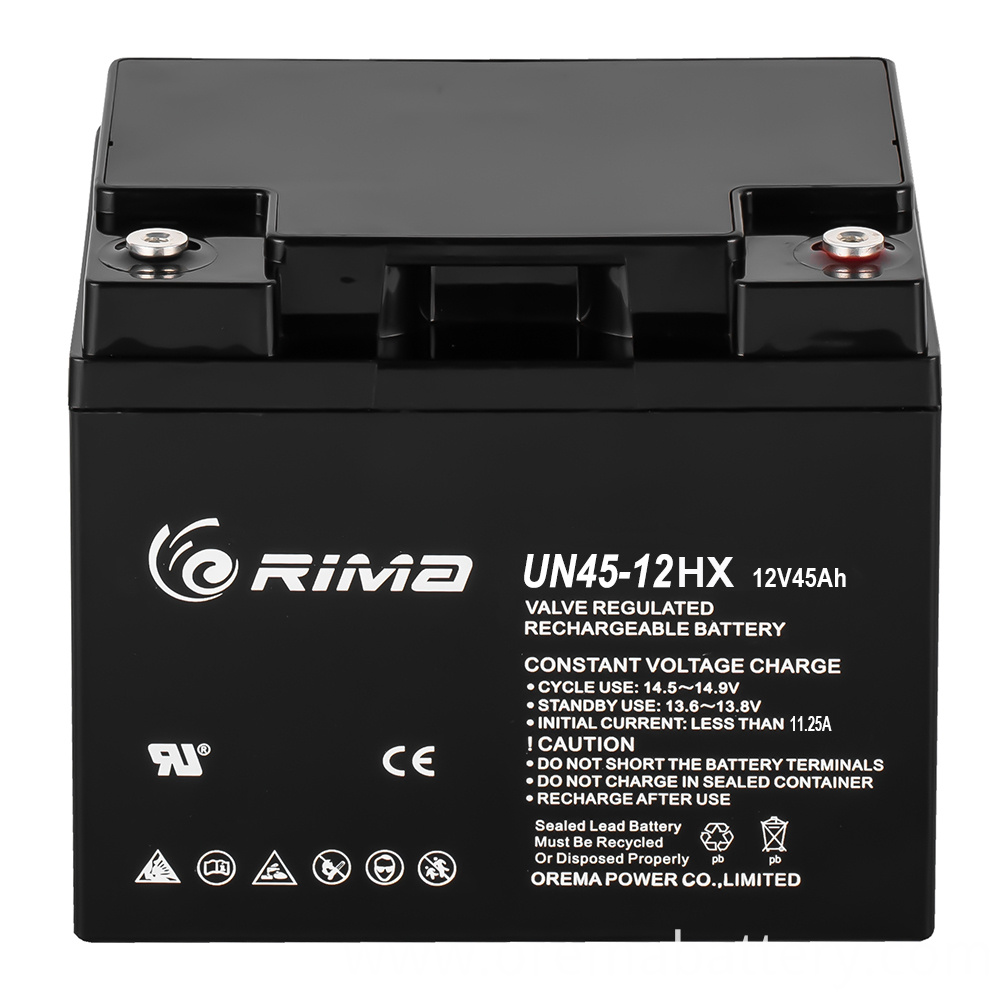 What makes this 12V 45AH battery different?
The key to this battery technology is the porous glass mat separators, which completely absorb and trap electrolyte (battery acid).
Battery arrives fully charged, ready to go.

Applications of RIMA UN45-12 battery
RIMA high-rate batteries are typically used in aerial drones, agricultural plant protection drones, emergency start power supplies, model aircraft, power tools and etc.