12V6.5ah Lead Acid AGM Batteries for Emergency Power, UPS
This UN6.5-12 battery is a sealed lead-acid (SLA) absorbed glass mat (AGM) rechargeable battery. This battery is part of our UN ranges of batteries. This 12V 6.5ah Mobility Scooter Battery case is made from a Non-Conductive ABS plastic, Strong Resistance to Shock, Vibration, Chemicals, Weather and Heat. RIMA promise every battery with enough capacity and work well. Our Valve Regulated Lead Acid batteries are designed with AGM technology, high performance plates, and high performance electrolyte to gain extra power output for common power backup system applications widely used in many fields. This motorcycle battery is an ideal battery for scooter,gi kart,ATV,pit dirt bike and more.
Product Information:
Nominal Voltage(@25

℃

):

12V

Nominal Capacity (@25

℃

):

6.5AH

Weight:

1.95kg (4.299lbs)

Length:

151mm (5.945inches)

Width:

65m (2.559inches)

Height:

94mm (3.701inches)

Total Height:

100mm (3.937inches)

Terminal:

F1 OR F2

Design life(@25

℃

)

5-8 years

Warranty:

12 months

Certificate:

ISO9001, ISO14001, ISO45001, UL, CE, TLC

Package:

8pcs per Carton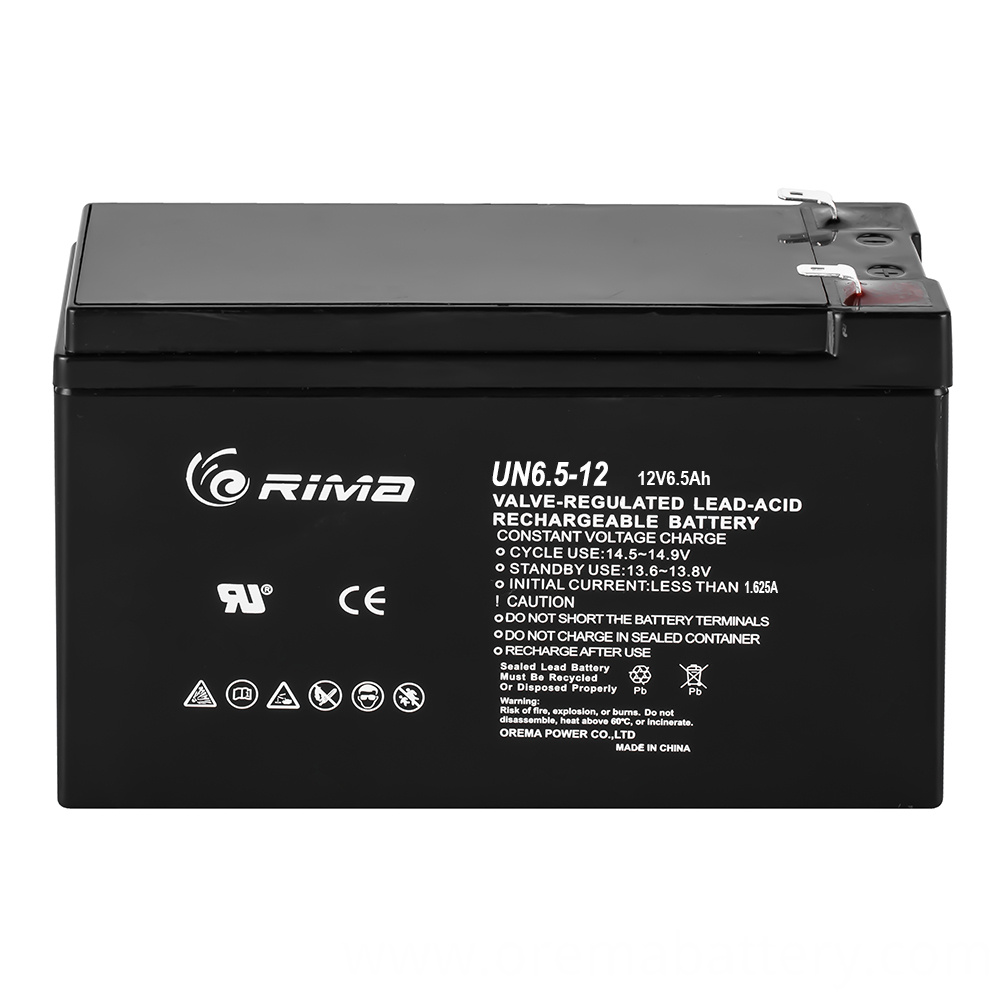 Features of this 12 Volt 6.5AH, Rechargeable Maintenance Free SLA AGM Motorcycle Battery:
-Sealed Maintenance Free
The valve regulated, spill-proof construction of this battery allows trouble-free, safe operation in any position. There is no need to add electrolyte during using process.
-Long Service Life
A dependable service life can be expected under normal operating conditions.
-Long Shelf Life
Low self-discharge rate allows for storage of fully charged batteries for longer periods of time before charging is required. Lower storage temperatures will further extend shelf life.
-Rugged Construction
The high-impact resistant battery case is made either of non-conductive ABS plastic or styrene. Large capacity batteries frequently have polypropylene cases, all of these materials impart great resistance to shock, vibration, chemicals and heat.
Applications of UN series:
Uninterruptible Power Supply (UPS)
Emergency backup power supply
Auto control system
Communication power supply
Alarm and security system
Electric Power System (EPS)
battery for emergency light
battery for security system