12V 70ah AGM Car Start -Stop Battery is part of our QTF series of SLA batteries. This Car Start Stop Battery uses advanced AGM Battery technology and have been widely used for vehicles with Stop Start systems. This car starting battery is ideal for boats,marines or any start-stop vehicles,because it can provide high starting current reliably. Our QTF-series start-stop batteries have been designed to deliver exceptional performance for high demanding start-stop vehicles. RIMA car start-stop batteries are friendly to environment as then can reduce carbon dioxide emissions.
RIMA battery QTF series AGM start-stop battery in which new lead-carbon technology and advanced lead alloy formula adopted is suitable for the vehicle with start/stop and mild hybrids vehicles, it has excellent charge acceptance and cold starting performance, especially the PSoC and high-low temperature cycle life. Our batteries are designed to deliver outstanding reliability, durability and safety, even under the most demanding applications. Up to 99% of the materials in our batteries can be recycled.
Product Information:
Nominal Voltage(@25

℃

):

12V

15 Minute rate Capacity (@25

℃

):

70Ah

CCA(EN)

720A

Weight:

21KG(46.293lbs)

Length:

278mm (10.945inches)

Width:

175m (6.8901inches)

Height:

190mm (7.480inches)

Total Height:

190mm(7.480inches)

Terminal:

SAE

Warranty:

24 months

Certificate:

ISO9001, ISO14001, ISO45001

Package:

1 pcs per Carton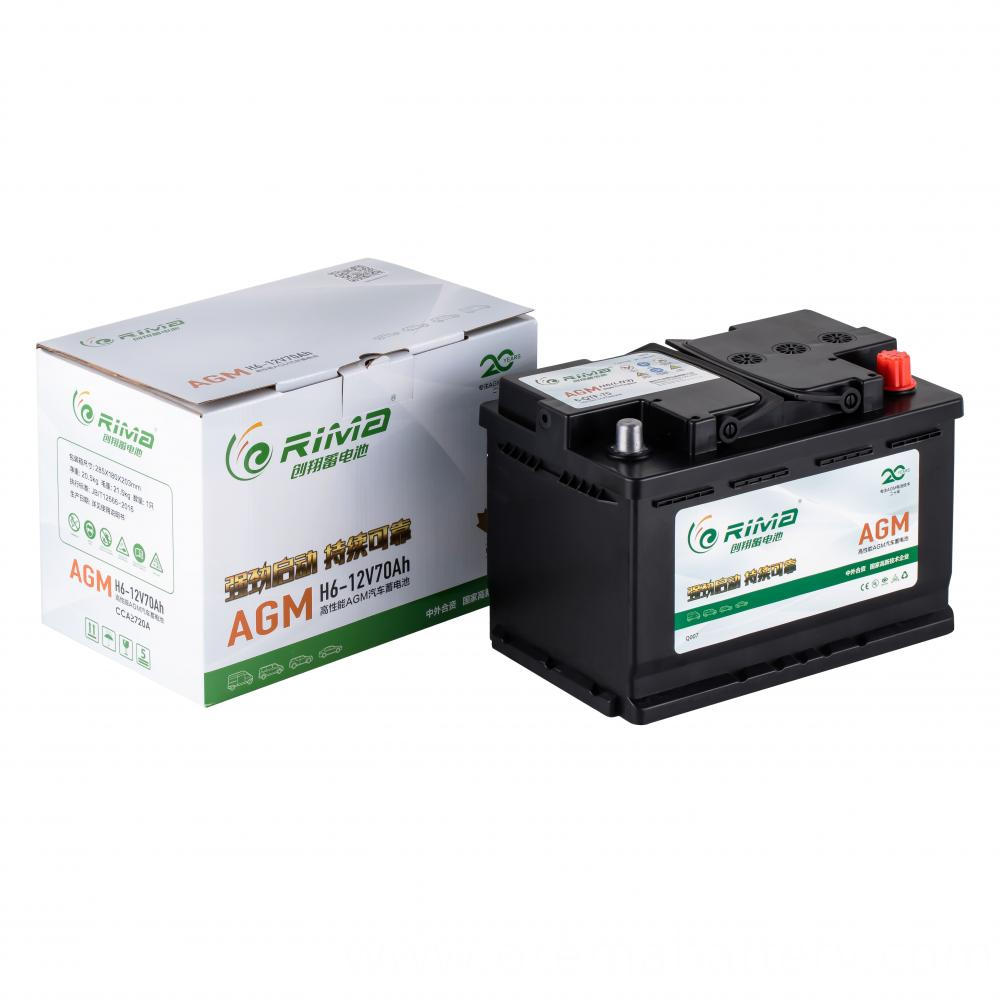 Features of this 12V70Ah Automotive Battery:
? Using German Technology
The tight assembly technology is used on the porous glass fiber separator to keep a certain proportion of the gap of the separator from being occupied by the electrolyte, so as to increase the deep cycle life of the battery. Because advanced German technology is used, the CCA of this start stop car battery is more than 40% higher than that of the ordinary rich liquid battery. Thus,it is more suitable for frequent start.
? Deep circulation plate
High quality alloy material is used, low self discharge, longer storage time, better corrosion resistance, long cycle life.
? AGM partition board
Imported high absorption, high rebound, anti-puncture AGM partition, no flow electrolyte , the automotive battery can be tilted at any angle, safety and environmental friendly.
? High cycle life
Advanced positive electrode formula, with reasonable curing process, further prolong cycle life.
? Maintenance free
Reasonable internal structure design, ultra-high oxygen recombination efficiency, almost completely maintenance-free.
? Excellent cold-start characteristics
This AGM automotive battery has a large cold start current. This battery can operate reliably at -40℃-70℃. The cycle life is increased to more than three times that of the ordinary starting battery. It can powerfully start the starting motor and reduce its running time. Due to the cycle stability of AGM battery, the engine can be shut down and restarted several times in a short time without any difficulty during restart.