RIMA 2500AH Solar Wind Power Backup Gel 2V Deep Cycle Solar Battery
This UNG2500-2 2V 2500Ah Deep Cycle GEL Battery is part of our UNG series of SLA batteries. This gel battery is a valve regulated, maintenance free, lead Acid Battery. RIMA offers high-quality gel battery options. These GEL Batteries are generally maintenance-free and vibration resistant. Compared with than AGM batteries, gel batteries have a wide operating temperature range and a longer cycle life. These deep cycle gel batteries can provide sustained power for extended periods of time. This 2V 2500Ah Gel Battery is an ideal battery for solar system, wind system, or other renewable energy system. The advantage of gel batteries over AGM for renewable energy storage is a somewhat longer cycle life and lower cost per kWh cycle. RIMA's high quality Gel batteries can be used for electric wheelchairs, emergency lighting devices, alarm systems, firefighting equipment, standby and uninterrupted power supply, telephone switching systems, telecommunications systems, solar and wind power systems and many more devices.
Product Information:
| | |
| --- | --- |
| Nominal Voltage(@25℃): | 2V |
| Nominal Capacity (@25℃): | 2500AH |
| Weight: | 140kg (308.64lbs) |
| Length: | 490mm (19.29inches) |
| Width: | 350mm (13.78inches) |
| Height: | 345mm (13.58inches) |
| Total Height: | 382mm (15.04inches) |
| Terminal: | F10 |
| Design life(@25℃) | 20 years |
| Warranty: | 36 months |
| Certificate: | ISO9001, ISO14001, ISO45001, UL, CE, TLC |
| Package: | 1piece per carton |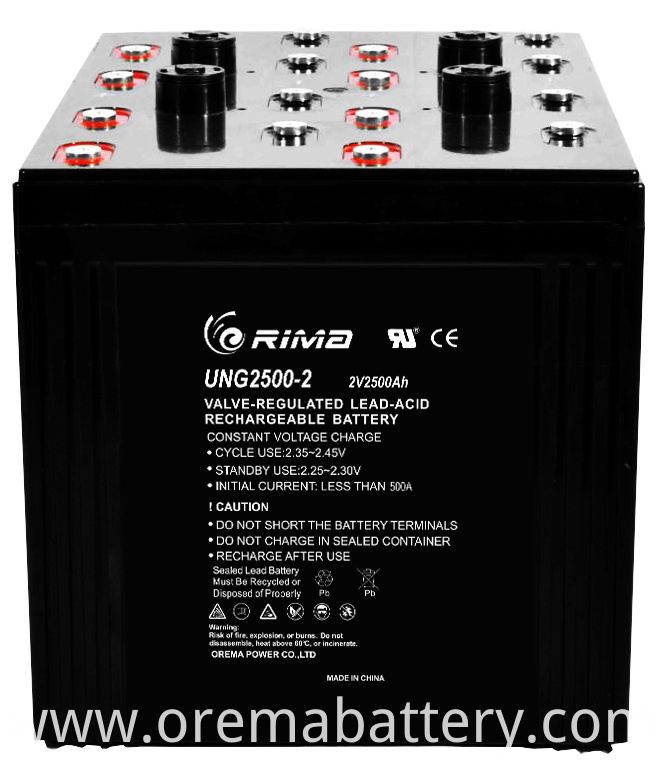 Features of this 2V 2500Ah Gel Battery :
? UNG2500-2 2V 2500Ah Sealed Gel Solar Battery is an ideal battery for Solar Power, Marine, Backup Power, and etc.
? Valve sealed design,non-free electrolyte,and maintenance-free.
? Wide operating temperature range from -40℃ to 60℃.
? Nanometer gel electrolytes eliminate the acid stratification and prolong cycle life.
? Low self-discharge rate:no more than 3% per month.
? This deep cycle solar battery that can be mounted in any position, resists shocks and vibration, long-lasting high performance in high and low temperatures.
Applications of this 2V 2500Ah Gel Battery:
Battery for UPS Systems,
Battery for EPS Systems,
Battery for Portable Tools,
Battery for Renewable Energy Systems,
Battery for Electric Utilities,
Battery for outdoor control equipments,
Battery for Railroad Utilities,
Battery for Telecom Systems,
Battery for Wheelchairs,
Battery for Electric Vehicles,
Battery for Engine Starters,
Battery for Lawn and Garden Tools,
Battery for Medical Mobility,
Battery for Power Sports,
Battery for Toys and Hobby,
and more.